Introduction to Formulytica
Formulytica is a specialty research organisation with expertise in contract formulation development services, analytical method development and validation. Our expertise focuses on topical application including creams, gels and foams for dermatology, pharmaceutical, cosmetic, veterinary and personal care products, such as skincare and haircare.
Our team of scientists each have an average of 20 years' experience working across the Australian, US and EU markets. Formulytica was formed in response to a global market demand from companies wanting to outsource their topical formulation development. We service companies who lack the internal resources, time or the skill set to develop new formulas and prepare products for market.
Based in Australia, the company laboratory is attached to a TGA and APVMA registered manufacturing plant. This provides the ability for Formulytica to deliver unmatched topical product development services, including clinical and stability registration batch preparation.
Formulytica is your "other lab" supporting your business with expert formulation development services without the head count.
Please note: we specialise in topical applications and do not undertake solid dose oral product development.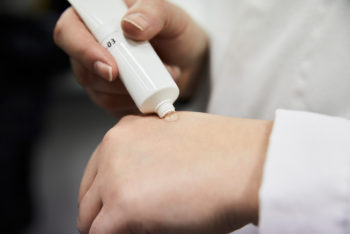 Services
Formulytica specialises in:
Topical skin formulation development is our heritage and developing new formulation technologies is what we excel at. We are experts at understanding the chemistry of the active ingredient to then plan a pathway suitable not only for pre-formulation, but also for packaging, manufacturing, clinical, the patient and therapeutic indication.
Formulytica excels at providing analytical support for topical formulations. Method development and validation are integral activities for formulation development. We have the tools to undertake this formula analysis with a focus on monitoring drug stability and formulation physico-chemical properties.
To develop a formula suitable for manufacture, filling and packaging we must first understand all the critical process parameters. This is included in a technical package in line with the capabilities of the manufacturer. To ensure your product is successful it is critical to understand prior to manufacturing whether the formulation is fit for use and it's intended indication.
Regulatory solutions and advice, troubleshooting and training are provided by our team of experts. This can be undertaken in conjunction with a project or as a standalone activity.