Austrade Bio Japan – Australian Life Sciences Showcase
Kate Fast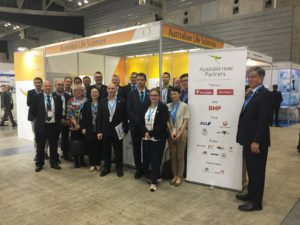 Richard Buchta Director at Formulytica (pictured front & centre) attends the Austrade Bio Japan and Regenerative Medicine, forming part of the Australian Life Sciences Showcase.
BioJapan celebrated its 20th conference in October 2018, and it has been a critical platform for industry and academic experts in the drug discovery, personalised medicine, regenerative medicine, diagnostics, medical devices and related sectors.
The Austrade showcase aimed at promoting the Australian Life Sciences capability. Including our high quality research infrastructure, and the sophistication of the Australian industry to the Japanese and international audience. Over 15,000 visitors attended the show.
The project aims to enhance further collaboration between the Australian and Japanese life sciences and medical research communities.