Formulytica attends BioForum Trade Mission in Israel
Kate Fast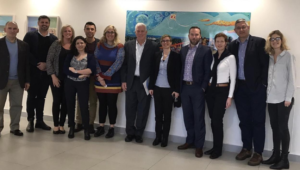 Richard Buchta Director at Formulytica (pictured far left) attended the Victorian Government Department of Economic Development, Jobs, Transport and Resources (DEDJTR) BioForum Trade Mission in Israel 8-13 December 2018.
Bioforum was established as an Applied Knowledge Center with the mission to bridge between industry, academia and government.
The 2018 Bioforum summit focused on partnering for clinical research. The panel covered the topic clinical trials in Australia – the outlet to international markets. It was moderated by Sky Gross, Director of the Victorian Government Biomedical Trade and Investment Office in Tel Aviv at Israel-Australia Chamber of Commerce.